Reg Revans and Action Learning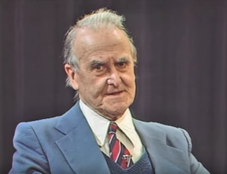 | | |
| --- | --- |
| Reg Revans, seen by many as the father of Action Learning, gave an interview, which was recorded, during the First World Congress on Action Learning and Action Research held in Brisbane in 1990. The video, which runs for 44 minutes is introduced by Ortrun Zuber-Skerritt, and the interviewers are Denis Loaney and John Mahoney. A summary of the interview is available here. |   |
Due to its length (and the size of the video file), Action Learning, Action Research Association Ltd (ALARA) has uploaded the interview in four parts on its YouTube channel as follows
The Global University for Lifelong Learning (Gull Ltd) has posted the interview in eleven sections on YouTube.
The following links are to each of these eleven sections.
Gull Ltd also has the following two Reg Revans videos from 1994 on Youtube.
The International Foundation for Action Learning (IFAL) has the following Reg Revans video on Youtube.
IFAL also has several other items of relevance about Revans and Action Learning, such as The Guardian's obituary for Revans, and future directions for Action Learning.