Australian Institute of Business
Australian Institute of Business - The Agile MBA

TM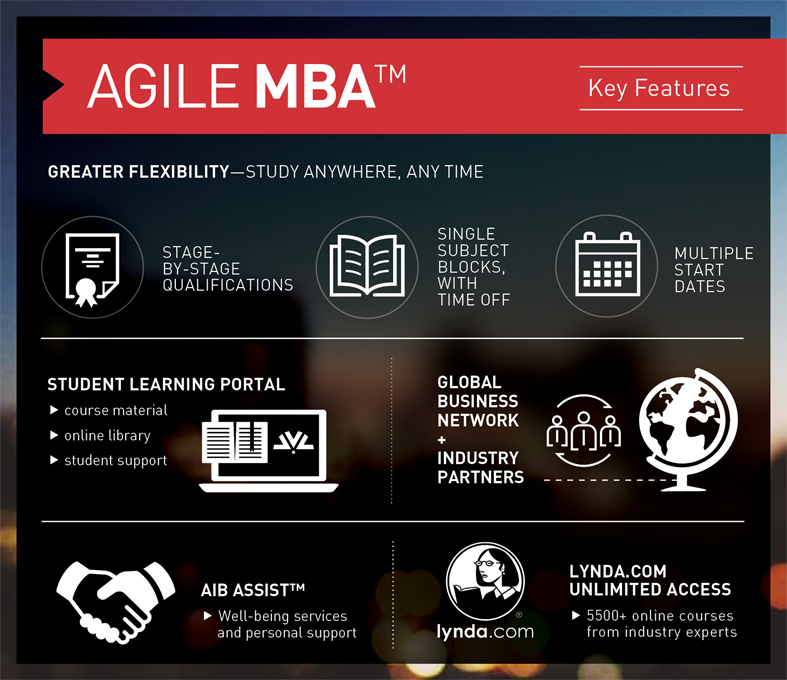 With many Master of Business Administration (MBA) programmes on offer, it can be difficult to know which degree will be the right fit for you. Each MBA programme has its strengths, but ultimately you must choose the option that will work best with your lifestyle and enable you to achieve career goals.
At the Australian Institute of Business (AIB), we're proud to offer The Agile MBA – Australia's most progressive MBA for working adults who are serious about achieving their career goals. We are committed to the continuous improvement of our programme, with the student experience and career outcomes at the heart of everything we do. For those interested in learning more, we discuss some of the key features that make our programme unique below.
Our programme structure is highly flexible
Those who work full-time throughout their MBA need a highly flexible option that will enable them to fit study into their life – and not the other way around. The AIB Agile MBA is developed with this in mind, offering flexibility to ensure that the programme is an achievable feat.
There are several programme features that make this all possible—the first being regular intakes and start dates. Unlike traditional universities that follow a semester structure, AIB offers a number of intakes throughout the year so that you can begin your MBA when it suits you.
Secondly, the MBA is delivered in single subject blocks, allowing students to delve deep into each subject and apply the learnings to real-life scenarios—rather than juggle multiple subjects at once. Each study period is seven weeks, with a week off between each subject to reflect and recharge, without losing that study momentum.
Finally, The Agile MBA consists of three stages; each a postgraduate qualification, which is earned every four subjects. These are the Graduate Certificate in Management, Graduate Diploma in Management and the Master of Business Administration.
Should students need to postpone their studies, they can do so knowing they've already earnt a qualification or two and achieved an important milestone.
Each of these unique programme features allow for greater flexibility and more choice for students, allowing them to complete the programme within a timeline that is achievable for their personal circumstances.
AIB Student Learning Portal... study anywhere, anytime
When you study The Agile MBA, the student learning portal will become your go-to resource. Home to all subject guides, learning materials, lectures, discussion forums, support documents and more, the innovative learning portal has been developed with the online student user experience in mind.
Students can follow a clear learning path for each subject and access the portal on any device at any time, from anywhere in the world. This high level of flexibility means that no student is at a disadvantage when studying via online learning. This ensures that the programme remains highly achievable, no matter what your commitments are.
Our global business network
When students choose The Agile MBA, they join a global community of over 13,500 students, alumni, academics and industry experts from over 90 countries. AIB reputation spans across the globe, which ensures that students can succeed in their career goals and pursue career opportunities worldwide.
This diverse student and alumni community also provides extensive opportunities for networking in-person at AIB events held across Australia and Canada... and of course, via online platforms.
Industry partners enrich the curriculum with practical insights
AIB has always been considered 'the practical business school' because the programme content and assessments blend theory with practice, to deliver a real-world understanding of business. Now, AIB students can learn directly from some of Australia's most successful CEOs, executives and brands, thanks to the AIB Industry Partnership Initiative.
LinkedIn, Haigh's Chocolates, Edible Blooms and the Australian Marketing Institute are amongst the first industry partners collaborating with AIB to deliver a truly practical and relevant learning experience. This important initiative sees renowned leaders contribute to the MBA curriculum as guest lecturers, sharing case studies, business lessons, and practical advice gained from their years of experience.
Student wellbeing is a top priority
When you enrol in The Agile MBA, you can be confident that you'll be fully supported each step of the way. In addition to academic support and our student services, we are also proud to offer AIB ASSIST™ — a free-of-charge external resource that provides students a suite of life and wellbeing support services.
The service connects AIB students with experienced professional—from registered psychologists and social workers, to career coaches, financial counsellors and lifestyle coaches. We believe that happier, healthier students are more likely to achieve success in their studies, so we wholeheartedly encourage students to make the most of AIB ASSIST.
A better learning experience with Lynda.com
Another unique element to The Agile MBA is the exclusive student access to Lynda.com online learning, which offers tutorials that help students achieve their personal and professional goals.
With more than 5,500 different courses to choose from, students can explore everything from how to improve writing skills to deliver presentations, as well as personal hobbies and areas of interest. This offering adds value to MBA studies, as students can work on their personal and professional growth, in the comfort of their home or on the go. Lynda.com courses start from just one hour in duration and students are encouraged to take advantage of their exclusive free access during their studies.
What to find out more?
If you want to find out more about The Agile MBA, simply visit our website and download the brochure, or get in contact with us today.
We're ready to help you succeed in your career goals!
Key Features of the Agile MBA
Two Agile Pillars (Goals)
Agile Main Drivers
Translation to market
3.0 Feature positioning
Real Career Outcomes
Career Oriented
High Quality / Academically Grounded and Successful Outcome Focused

2017 Alumni Insights report
Industry Partners

Recognised and respected
Globally Recognised
Industry Respected

Industry Partners
Global Business Network

Practical

Highly Practical / Practical by Design

Industry Partnerships and guest lecturers

Industry Partners
Practical Learning

Highly Achievable
Flexible
Highly Flexible and Fully Supported / With You Every Step of the Way

Several start dates, greater flexibility
Stage-by-stage qualifications
Single subject blocks, with time off
AIB Student Learning Portal — study anywhere, anytime

Highly Supported

Lynda.com Online Learning
AIB ASSIST™

Accessible and affordable