Innovative Change Practitioner Programme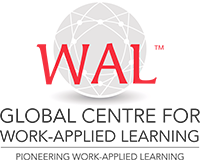 Global Centre for Work-Applied Learning

Innovative Change Practitioner Programme

Action Learning, Action Research Association Ltd (ALARA) has joined in a strategic alliance with GCWAL to promote the Innovative Change Practitioner Programme. The Programme is based on GCWAL's Work-Applied Learning model, and is an integrated Action Research and Action Learning approach (ARAL).
The Programme is aimed at managers and leaders of public and private organisations, educational institutions and community organisations. The Programme enables the participants to use the ARAL change approach to plan and initiate the implementation of an ARAL change project within their own organisations. Participants will be encouraged to work with their work teams to maximise learning opportunities as they implement their ARAL change project.
ALARA believes that by supporting this Programme, it spreads the knowledge, skills and use of Action Learning and Action Research. Participants will become members of ALARA on commencing their programme. On successful completion, participants will be awarded the title of Certified Innovative Change Practitioner and acquire Associate Fellow status with ALARA.
| | |
| --- | --- |
| | A brochure about the Innovative Change Practitioner Programme is available. If you would like more information about the Programme, please contact GCWAL at gcwal@gcwal.com.au. |